Home Made jewellery Silicone Moulds, Small Pack, 3 Pieces
---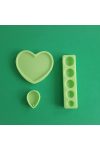 You'll find 3 pieces of jewellery forms in this small package.
Check out this with 8% discount.

Click on the "PACKAGE CONTENT" tab below to see the 3 shapes that you can use to cast unique jewellery from epoxy resin.
We are sure you will love it. But you can prepare them as gift for your friends as well.

Especially if you as a beginner do not have any silicone form, it's worth trying this with reduced price.
Reviews of the product
Be the first to review this product!