Aluminum Trihydrate, 1 kg, Resin Additive
---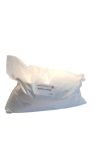 Aluminum trihydrate (aluminum hydroxide) is a white, fine powder, artificial material. It is widely used as an additive for casting resins.



It has an fire retardant effect
Increases flame resistance
Reduces shrinkage of resin.
Increases resin pot life
Being low cost material, it increases the economical application of casting resins.
It has a strong whitening effect
Reviews of the product
Be the first to review this product!